Welcome to CyberLink 3D Zone
Jump-out-of-the-screen 'stereoscopic 3D' is the technology that has set everybody a-buzzing. With the Blu-ray 3D specification being finalized and a promised release of a number of Blu-ray 3D movie titles this year, PCs and CE devices face another video revolution.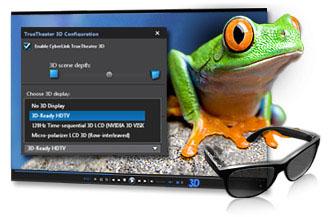 So what will you need to watch 3D on my PC? Is your current hardware capable of extensive 3D video computing? What screens do you need to watch 3D? What software player do you need to play 3D movie titles? Carry on reading to find out the answers to these and many more 3D on PCs questions...